Ault Park Pavilion, with its Italian Renaissance architecture, gave us a dramatic background to finish our senior ballet session and make some elegant senior portraits. The pavilion was built in the 1930s, fell into disrepair, was taken over by a motorcycle gang in the 1970s, and restored in the 1980s. It is a prime wedding venue, as well as portrait location.
At least five or six other photo sessions were in progress during the time we were there. As far as I could tell, though, none of the rest could stand on their toes.
Since time was limited (my model had an important event she couldn't miss), we made sure we got some in a non-dance outfit. Yearbook-friendly photo: check.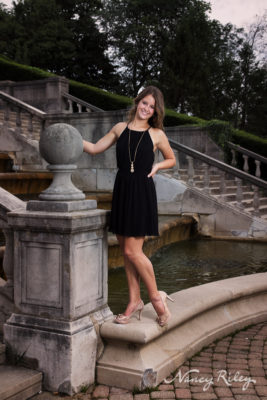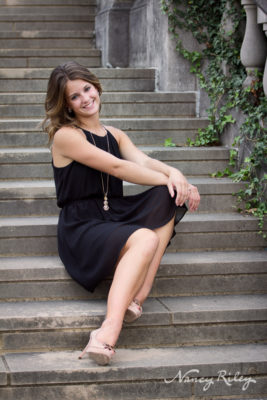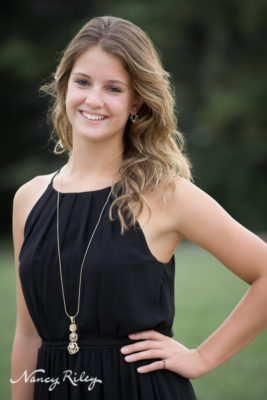 And then I staged a takeover of the coveted pavilion and held the other photographers off with my light stand until she changed back into her tutu. Don't mess with the ballerina's photog.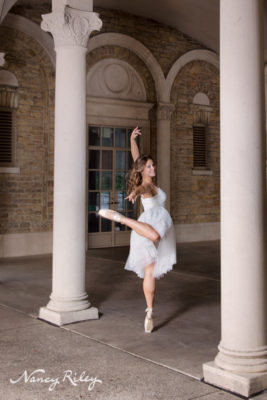 Or with the ballerina, who has a mind of her own. Our conversation leading up to the next shots went something like this:
Her: Can you take a picture of me on that railing?
Me: You mean next to that railing over the fountain?
Her: No, ON the railing.
Me: I'm thinking about closed head injuries.
Her: I just think it would be cool. I'll be fine.
The conversation went on with me invoking her concern for her mother, and her reminding me she was of legal age, and since time was ticking, I caved, being relieved that her intention was at least only to sit on the railing.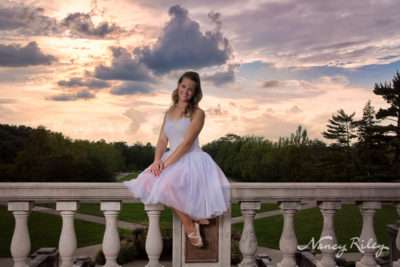 Until . . .
Her: I'll just stand up.
Me: I don't know, wait, are you sure? Ack! Okay, got it! Can you turn and show me your face without falling off? Okay, got it. Now come off of there!
Then we had only a few minutes left for her to change into her color guard outfit and grab her flag. She devotes most of the autumn season to her school's marching band, which placed fourth in national competition last year. If her skills are typical of her band's caliber, then I can see why they do so well.
These shots were hard to get, and it was mostly her fault. She throws that darned flag so high that if I got the flag at its peak, she was tiny below in the picture. I figured out that I had to frame closer, and then shoot as the flag dropped back down to keep her recognizable. Of course, that meant she had to hold a pose until the very last instant before the flag clobbered her. Still, I don't think I heard the flag clatter to the ground once.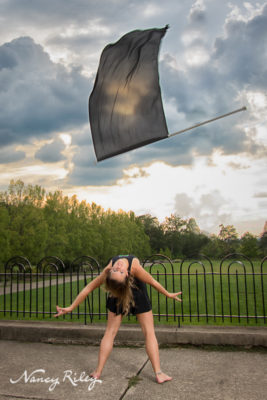 We had four minutes left before she had to go. We decided to get a pose with the flag in front of the pavilion, but other groups had staked claim in front of the fountain and the pavilion itself. So we used the flower bed to hide them and she pulled this final pose out.
And then she left the park, right on time. Well played, my dear.