I've photographed Cayla for her sweet sixteen portraits, and we got many images that showed her fresh, natural beauty. However for her senior session, she wanted something more trendy and sophisticated, so we created a Cincinnati senior fashion shoot.
Cayla has a very lovely, sweet smile, and I wanted plenty of photos of it, but we also wanted to do some photos with a more high fashion look. Because she was worried her dad and sister might make her laugh, they had to stay behind in the parking lot. Her mom was pressed into service holding a reflector so big Cayla couldn't see her, and that helped her to gradually lose her shyness and concentrate on channeling her inner supermodel.
We started off with some wall poses, because it is easier to lean on something than going solo without any props. Her hat also made a nice accessory to play with.
When she was eased into the posing, we took off the hat and tried varying the expressions and arm positions. I prefer to demonstrate poses instead of just showing a picture because I can start the pose from the feet up, even if the feet don't show. It will affect the position of the shoulders and torso, which are showing.
The other reason I try to demonstrate the pose first is that it's important that I remember how awkward a pose feels, especially for glamor and fashion posing. I will be the first to admit; I'm terrible posing in front of the camera myself. It helps me to be sympathetic to the model's self-consciousness and do what I can to reassure her that she looks great, regardless of how unnatural the pose feels. If a pose is difficult to hold, it reminds me to not leave her in it longer than necessary.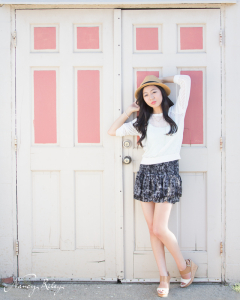 We mixed up the backgrounds as well as the poses. I purposely did some shots with a lot of open space. This would give us some options to drop in text on a plain background to use on a graduation announcement or an album cover.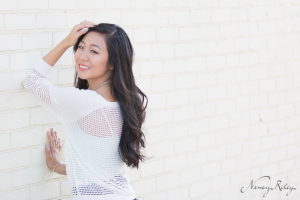 By this time, Cayla was becoming pretty comfortable with the more serious expressions as well as the posing. I love this one, from how it emphasizes her exquisite face to the grace of her hand position. I'm kind of a nut about hand position. Maybe it was from all my years of piano.
I occasionally gave the girl a break and let her sit down. Not too many, though. I didn't want her to get soft.
This mural was the main reason we came to this street. We did a few different poses here, but this is my favorite.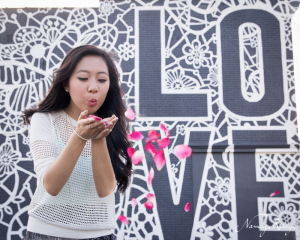 We got so many images that I love here, that it was hard to just pick a few. In fact, this is just Part I of this shoot. In a future post, I'll share some images of Cayla in a completely different look and style.