Fifty percent chance of thundershowers. That's what the forecast said all week for Becca and Dustin's wedding day, planned for the lovely outdoor gazebo setting of the Oasis Golf Club and Conference Center in Loveland, Ohio. When it was time for Becca and Dustin's first look, it was raining lightly, so we hastily moved the location from the gazebo to the covered back patio. By the time we regrouped there, the rain had stopped. It was still a lovely location, though, and out of sight of any early guests. We were still able to include the gazebo in their portraits.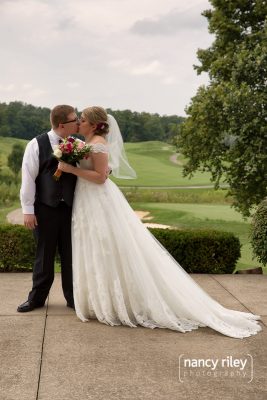 Their wedding rings were actually the promise rings they had given to each other as teenagers. How sweet is that?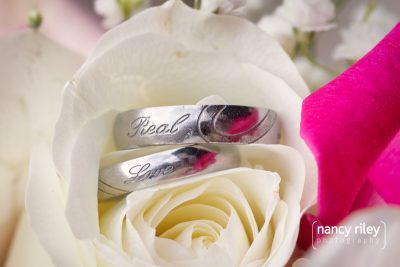 The sun was in and out for the next couple of hours, but thankfully, the rain held off for the wedding ceremony. The wind made lighting the unity candle a challenge, but at least everyone stayed dry, and it was a lovely ceremony.
Here, the bride waits by the window before the wedding party enters the reception.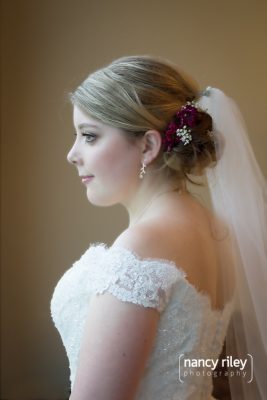 After dinner and the reception traditions, we went out to the lake boardwalk to take evening pictures. It had rained through much of the reception, but the sky had cleared just enough to give us a glorious sunset.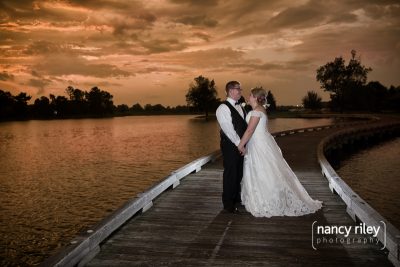 The maid of honor, Jessica, was invited to come along to help with Becca's dress, and did an admirable job. Dustin was ready to take a break from pictures, so we took some with Becca alone, and also with Jessica. Jessica had energy left for both of them.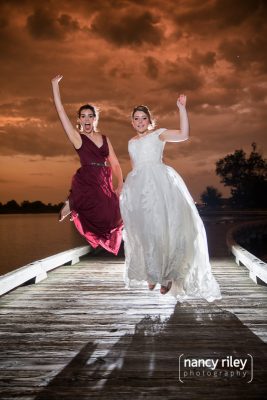 But after a little breather, Dustin was ready to get back into the game and finish the sunset session with a dance with his bride.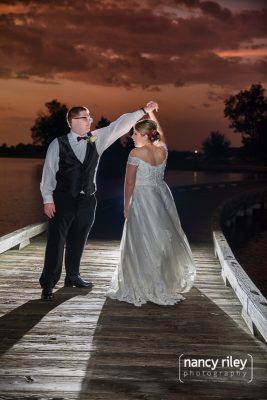 Congratulations, Dustin and Becca! May your love shine through thundershowers and keep you dancing into the sunset!